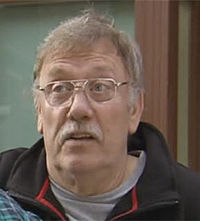 Is it me needing new specs in my old age, or has Bill Webster's 'tache gone a-missing? I couldn't see it anywhere on last night's Coronation Street.
At first I thought it might be a trick of the light but I'm pretty sure that his top lip was indeed - gulp - naked.
I liked Bill's 'tache a lot, so I hope he grows it back. In fact, Bill's one of my favourite characters on Corrie and I wish we'd see more of him.